Anton Estaniel, a cellist and music educator, has been performing and teaching music throughout Southern California and the Bay Area since 2000.
Keeping an open mind, Anton has had the opportunity to perform a variety of musical styles ranging from Western Classical Music, Rock, Classical Middle-Eastern Music, Caribbean Music, Tango, and New Compositions that incorporate the cello.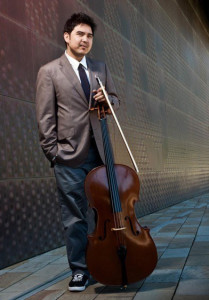 Traveling to play music is among Anton's favorite musical endeavors.  Trips to Trinidad and Tobago to perform in the 2000 steel drum Panorama competition and tours to Egypt in 2007, Detroit in 2009, Abu-Dhabi in 2010, and Oman in 2012 and 2016 with MESTO, and performances with the Hurd Ensemble in New York and Washington D.C.'s Kennedy Center, rank as some of his most valuable musical experiences.
Anton views music education as an important part of any student's overall development, citing his experience in public school music programs from middle school through high school to his tenures at California State University Long Beach and Northern Illinois University.
Anton has studied with Andy Honea, Bong Shin Ko, and Marc Johnson of the Vermeer Quartet.